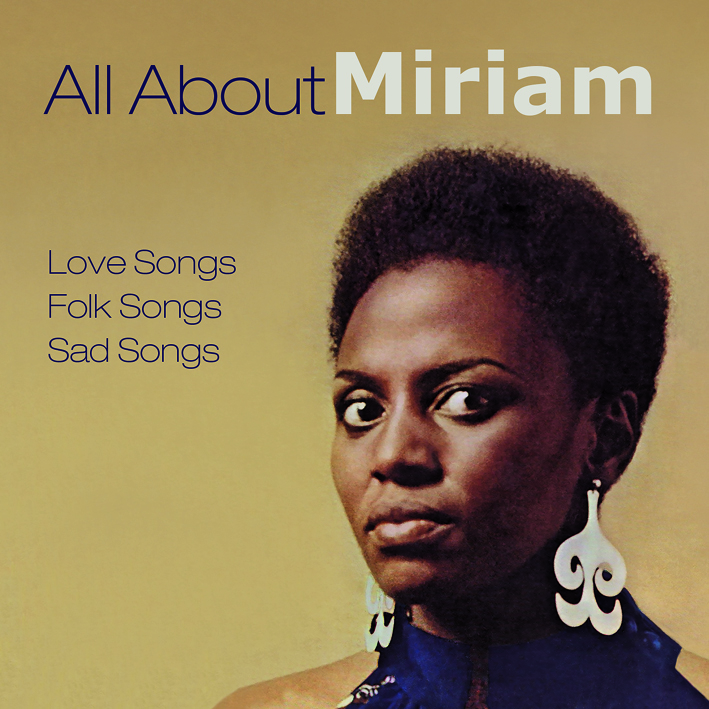 There is about this striking woman a magnetism so dramatic, so compelling that had she chosen some profession less
luminous than show business, she still would have flickered like fire in snow.
Miriam Makeba stands out as a total attraction. She looks not merely beautiful, but magnificent. She moves dramatically. She sings with conviction and force and beauty. Her entire demeanor is one of regal acceptance of a responsibility
to be great. And great she is, in the sober, forgotten sense of the overworked word.

To call Miss Makeba a singer is an understatement. Even to expand her classification to performer does not grant
her justice. Somehow singing and performing suggest entertainment. And entertaining, for some reason in 1966 America, says fun and gay times. That is the crucial rub. Miriam Makeba can be fun and gay times; but she is so much
more. She is the entire spectrum of emotion. She possesses that rare ability to
feel and absorb things that touch the human spirit; and then to communicate that understanding to others. And that is considerably more meaningful than mere fun and games. Sometimes it is painful and very sad.

Few other living singers have this gift. In our world of comparables, I suppose one could say that Miriam Makeba and
America's Odetta both possess that warm gentility that attracts people and the spellbinding talent that holds them.

Every listener will find his own special attraction here. The one fascinating appeal which has become synonymous with
this artist is her liberal and flexible use of Ngongongtwang. These famous clicks are peculiar to South Africans and utilized most in that country as a sly, good-humored put-on of the white Afrikaans, who cannot make that sound. On
this album, she tells that funny little tale in The Click Song.

Enjoy Miriam Makeba. Here is one of the few
remaining unique experiences in the world and you're holding it in your hands.

Engineer – Willie Brook
Miriam Makeba (Vocals),
Sivuca (Guitar),
Leopoldo Flemming (Drums).
Harold Dodson (Bass),
Arranged and Produced By – Luchi DeJesus and Severino Dias De Olivera.
| | |
| --- | --- |
| Year: | 1967 |
| Country: | South Africa (First Release USA) |
| Format: | CD (Original Release Vinyl) |
Back to all Releases